Community Health Education
Welcome to the Community Health Education Program.
If you are passionate about improving an individual or a community's overall quality of life through the promotion of wellness, then a Bachelor of Science in Community Health Education at the University of the Incarnate Word is the perfect fit for you. The program emphasizes improving the health of individuals and communities based on their needs. Students will design, implement and evaluate community health programs. Students will learn the domains of competency within public and community health education such as behavioral health, health policy, research, epidemiology, chronic diseases and infectious diseases.
A community health educator is a health professional who focuses on promoting health and disease prevention within a community. They work in a variety of settings within a community, including healthcare facilities, government positions and for-profit and not-for-profit organizations. It is a type of health career that is not focused on providing one-to-one care, but rather on delivering education and resources to a community population. Community health educators have an in-depth knowledge of the communities they serve. They identify health-related issues that affect a community, collect needs assessments, analyze data, and create a plan to improve the quality of life. For example, community health educators may create new programs or adjust existing programs to meet the demands of the community and to advocate for community needs.
The work in this field requires a particular skill set, and having strength in several different areas will help you stand out in the position. Working with the public as a community health educator will require you to have good communication skills. You will need to be able to speak in public or face-to-face with individuals and deliver the kind of education they need to improve their quality of life. Confidence in your abilities, strategies and efforts will also have an impact on the population and will allow you to plan, develop and implement effective programs. You will also need good organization skills to organize information and data, as well as reports and documents.
Jobs and Duties
This is an outline of the duties of a community health education specialist, which will vary with work settings.
In healthcare facilities, sometimes called patient navigators because they help consumers find out about their health insurance options and direct people to outside resources, such as support groups and home health agencies. Health educators in healthcare facilities also help organize health screenings, such as blood pressure checks and health classes on topics such as installing a car seat correctly. They also create programs to train medical staff to interact better with patients. For example, they may teach doctors how to explain complicated procedures to patients in simple language.
In colleges, health educators create programs and materials on topics that affect young adults, such as smoking and alcohol use. They may train students to be peer educators and supervise the students' delivery of health information in person or through social media. Health educators also advocate for campus-wide policies to promote health.
In public health departments, health educators administer public health campaigns on topics such as emergency preparedness, immunizations, proper nutrition or stress management. They develop materials to be used by other public health officials. During emergencies, they may provide safety information to the public and the media. Some health educators work with other professionals to create public policies that support healthy behaviors and environments. They may also oversee grants and grant-funded programs to improve the health of the public. Some participate in statewide and local committees dealing with topics such as aging.
In non-profits (including community health organizations), health educators create programs and materials about health issues for the community their organization serves. They help organizations obtain funding and other resources. Many non-profits focus on a particular disease or audience, so health educators in these organizations limit programs to that specific topic or audience. For example, a health educator may design a program to teach people with diabetes how to better manage their condition or a plan for teen mothers on how to care for their newborns. In addition, health educators may educate policymakers about ways to improve public health and work on securing grant funding for programs to promote health and disease awareness.
For-profit, health educators identify common health problems among employees and create programs to improve health. They work with management to develop incentives for employees to adopt healthy behaviors, such as losing weight or controlling cholesterol. Health educators recommend changes to the workplace, such as creating smoke-free areas, to improve employee health.
***Health educators who teach health classes in middle and high schools are considered teachers. For more information, see the profiles on middle and high school teachers through the Dreeben School of Education.***
As of 2022, the Community Health Education program at UIW is fully accredited by the Council on Education for Public Health (CEPH). The program is also aligned with the educational requirements for the Certified Health Education Specialist (CHES) examination, offered through the National Commission for Health Education Credentialing.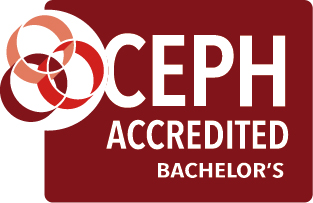 The program focuses on the provision of community health education through evidence-based approaches to address disease prevention and health promotion within communities. Also, preparing leaders with the ability to apply system thinking in the areas of policies that determine the delivery of services to address health disparities. The program prepares students to address present healthcare challenges. The academic environment within the program is characterized by small class size, ease of access to our engaging faculty, as well as support in ensuring successful degree completion. The program features faculty with published scholarship in the field.
Community Health Education (CHED) is an intradisciplinary program between CHED, Psychology and Nutrition. Current faculty teaching as part of the intradisciplinary program are Derek Anderson, Dr. Heather Barton-Weston, Dr. Maria Felix-Ortiz, Dr. Heather Frazier, Rosalia Guerrero, Dr. Erlinda Lopez-Rodriguez, Stephanie Mitchell, Dr. Neeta Singh, Dr. Catherine Troisi and Dr. Kristen Vega.
Mission
The mission of the Community Health Education program is to promote health in developing a better quality of life and building the whole person through the preparation of specialists in community health education. This mission includes promoting health, preventing disease, and advancing health equity, while training leaders for the delivery of teaching through communities, research and service.
The programs student learning outcomes are as follows:
Assess individual and community needs at the entry level
Plan health education strategies, interventions and programs at the entry level
Implement health education strategies, interventions and programs at the entry level
Conduct evaluations and research related to health education at the entry level
Serve as health education resource person at the entry level
Communicate and advocate for health and health education at the entry level
Incorporate basic biostatistical knowledge and skills into practice
Incorporate basic epidemiologic knowledge and skills into practice
Incorporate basic environmental health knowledge and skills into practice
Incorporate basic health services administration knowledge and skills into practice
The Bachelor of Science in Community Health Education consists of 120 hours. The CHED curriculum addresses all of the public health domains through a combination of university core classes (43 hours) and the required courses in the major (77 hours). The majority of the core courses must be completed prior to taking the required CHED courses. A list of the courses meeting the requirement for the general education are as follows:
CHED Curriculum
Domains
Courses Offered
Science: Introduction to the foundations of scientific knowledge, including the biological and life sciences and the concepts of health and disease.
4 hours of a natural science course:
BIOL 2321/2121L Anatomy and Physiology with Lab
OR
BIOL 1401/1402L Unity of Life with Lab
OR
ENSC 1410 Environmental Science with Lab
4 hours of Chemistry
CHEM 1405 Science in Everyday Life
Social and Behavioral Sciences: Introduction to the foundations of social and behavioral sciences.

3 hours in PSYC 2356 Lifespan Development
3 hours in PSYC 3385 Multicultural Issues

2 hours in DWHP 1200 Dimensions of Wellness

Math/Quantitative Reasoning:Introduction to basic statistics
MATH 2303 Intro to Statistics
Humanities/Fine Arts: Introduction to the humanities/fine arts
3 hours of any Fine Arts
3 hours of Religion
6 hours of Philosophy
The curriculum provided the foundational preparation, which qualify students to take the CHES exam. The program curriculum is built on the Seven Areas of Responsibilities for Health Educators.
Responsibility I: Assess Needs, Assets and Capacity for Health Education
Responsibility II: Plan Health Education
Responsibility III: Implement Health Education
Responsibility IV: Conduct Evaluation and Research Related to Health Education
Responsibility V: Administer and Manage Health Education
Responsibility VI: Serve as a Health Education Resources Person
Responsibility VII: Communicate and Advocate for Health and Health Education
The program requires an internship during the last semester to meet graduation requirements. A minimum of 380 hours are projected in the curriculum. The internship placement begins during the fall of your senior year. Internship provides the opportunity in a structured learning environment to set and evaluate professional goals and objectives. The internship also provides students on-site supervision and two performance evaluations from the site supervisor.
The courses within the program are designed to be taken in a particular sequence. Following the sequence increases the likelihood of completing the degree in four years' time. Dropping courses, retaking classes, or registering for less than a full course load will delay graduation. Always consult your academic/faculty advisor before deviating from this suggested sequence.
A list of the CHED required courses for the degree is as follows:
CHED 2310 Health Science (3 credit hours)
CHED 2320 Introduction to Public and Community Health (3 credit hours)
CHED 2330 Principles of Community Health Education (3 credit hours)
CHED 3305 Research Methods for Community Health (3 credit hours)
CHED 3310 Community Health Promotion (3 credit hours)
CHED 3320 Fundamentals of Health Policy (3 credit hours)
CHED 3330 Communicable/Chronic Disease (3 credit hours)
CHED 3340 Fundamentals of Human Performance (3 credit hours)
CHED 4108 Community Health Education Internship (10 credit hours)
CHED 4250 Senior Seminar (2 credit hours)
CHED 4310 Public Health and Epidemiology (3 credit hours)
CHED 4320 Community Health Program Planning and Evaluation (3 credit hours)
CHED 4330 Community Health Communication and Education Skills (3 credit hours)
NUTR 2400 Environmental Nutrition (4 credit hours)
NUTR 3342 Nutrition in the Life Cycle (3 credit hours)
PSYC 3340 Drugs Use Prevention and Community Psychology (3 credit hours)